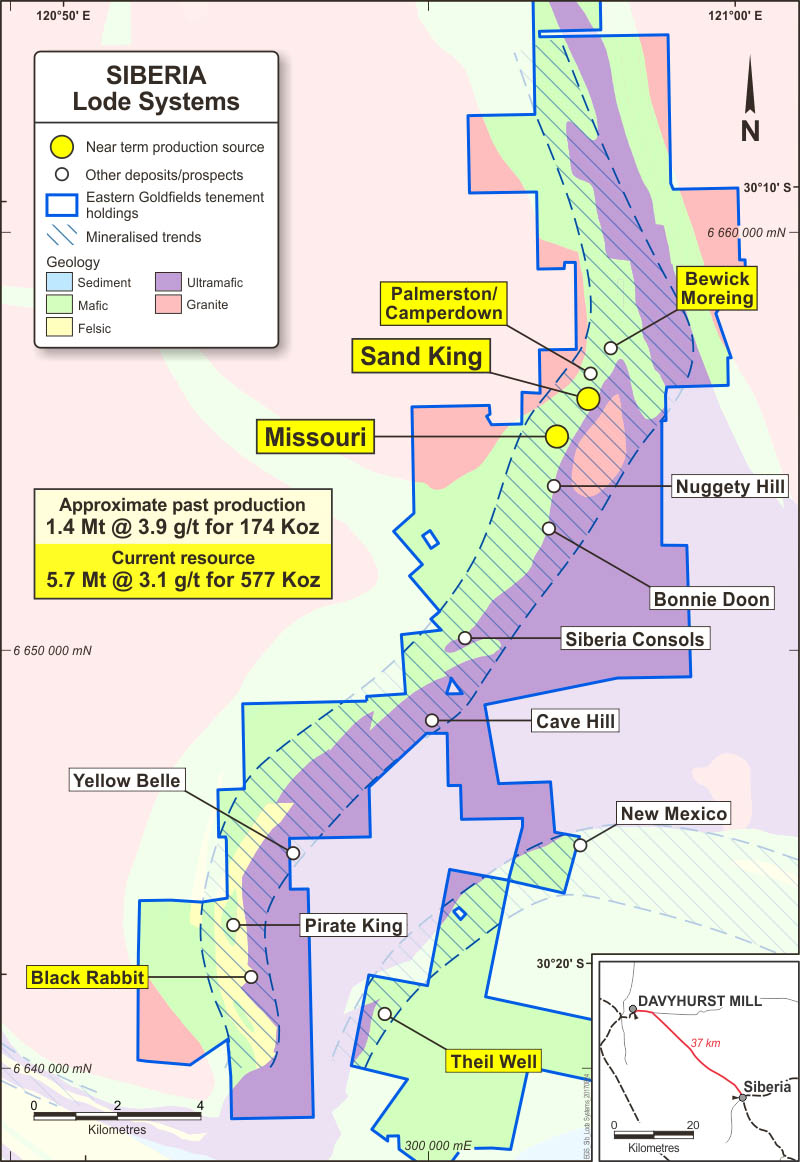 SIBERIA
The Siberia Project is a historical mine area located 37 km south-east of the Davyhurst Processing Plant. Open pits have been developed on a number of sets of historical workings, including Sand King, Missouri, Palmerston-Camperdown, Bewick-Moreing and Theil Well.
GEOLOGY & MINERALISATION
The Siberia Trend is a 16 km zone covering the sheared ultramafic – basalt contact running south of the main Siberia workings to the Black Rabbit resource. Along the trend a number of sets of substantial old workings have been developed on the basalt units close to the contacts at Consoles, Bonnie Doon and Consoles South. These have not been systematically tested as yet.
RESOURCES & RESERVES
JORC 2012 resource estimates have been compiled for Sandking (refer ASX ann 03/01/2017 – Sand King Deposit Mineral Resource Update) and Missouri (refer ASX ann 15/12/2016 – Missouri Deposit Mineral Resource and Reserve Update). For Palmerston, Bewick-Moreing, Black Rabbit and Thiel Well, JORC 2004 resource estimates were compiled in 2008 based on past ASX releases and reports. The estimate was released in the Swan Gold Mining Limited 2013 prospectus released 13th February 2013 (Table 1).
HISTORICAL PRODUCTION
The table below summarises the cumulative gold production from the project based on the available records;
Project
Production Period
Pre 1950
1950-1980
1980-2000
2000-2008
(oz Au)
(oz Au)
(oz Au)
(oz Au)
Davyhurst
 
 
 147,700
 25,292
TARGETS
The Theil Well Trend is situated on a sheared contact between high-Mg and tholeiitic basalts, where the company has identified the New Mexico West and Charlie North Targets that require infill drilling.