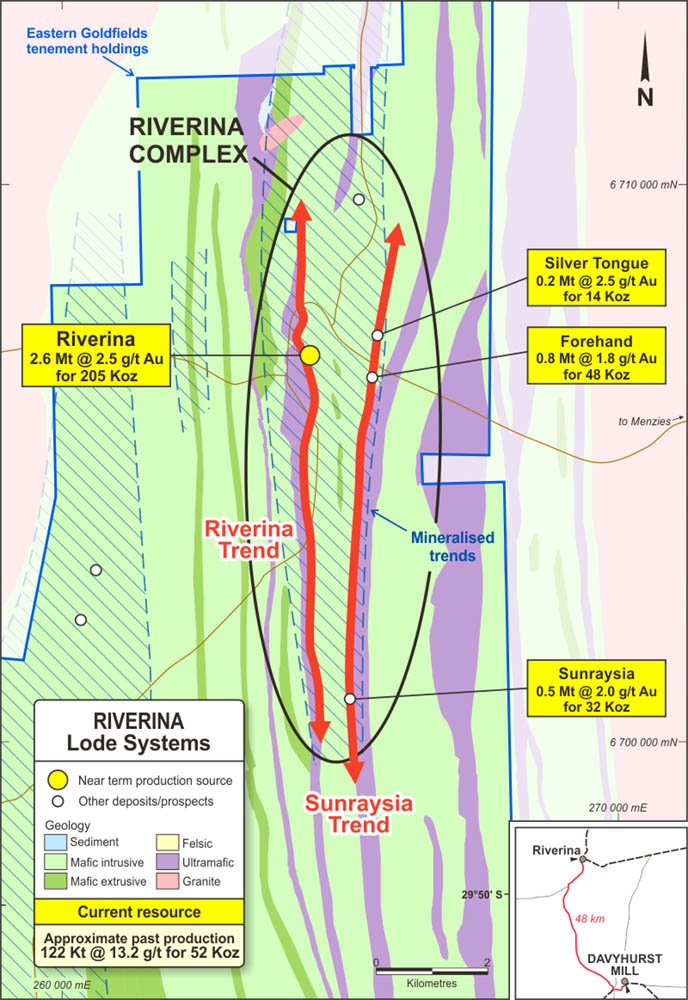 RIVERINA
The Riverina Project area is located approximately 48 km from Davyhurst Processing Plant. The project comprises gold resources defined at the Riverina, Silver Tongue, Forehand and Sunraysia deposits, as well as a number of advanced exploration targets. The company envisages early open pit development of the Riverina deposit, with the other deposits developed as secondary ore sources utilising the same mining fleet. There is a haulage road in place between Davyhurst and Riverina
GEOLOGY & MINERALISATION
The Riverina deposit occurs as a series of mineralised shears within a package of mafic and ultramafic volcanics and metasediments. The mineralisation has a strike of approximately 1.2 km and remains open along strike and at depth.
HISTORICAL PRODUCTION
The table below summarises the cumulative gold production from the project based on the available records;
Project
Production Period
Pre 1950
1950-1980
1980-2000
2000-2008
(oz Au)
(oz Au)
(oz Au)
(oz Au)
Riverina
50,000
5,000
TARGETS
Previous operators have established the site for open cut operations. OBM intends to complete additional infill RC and diamond drilling to confirm the existing Riverina resource prior to finalising a revised mine plan. In addition, the company intends to test below the historic underground workings as a source of high grade underground ore.
Silver Tongue and Forehand Deposits: These deposits are approximately 1 km east of the Riverina Deposit and within a similar rock sequence. The deposits are on granted mining leases. Additional drilling is required on each deposit prior to resource optimisation. Development of either resource is likely to occur as part of a satellite operation to the Riverina development.
Sunraysia Deposit: Is approximately 5 km south of Riverina within a similar geological sequence. Further infill RC drilling is required to fully evaluate the deposit.
Other targets have been identified within the project area that required follow up evaluation.